This is what our house looked like looking from the living room into the dining room and eventually the hallway. Everything was cream. It was really delightful.
For those who have been following BFD since its inception in February, you may remember some initial posts re: Keith tearing down that there wall under the stairs, redoing some ceiling, and dust. Therewas so much dust. If you don't that's cool, because we can re post them. Here:
This is where you see the wall get torn down real professional like.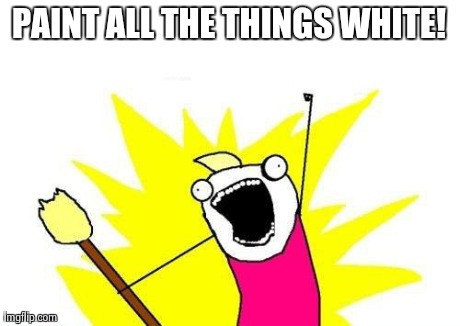 This is where you see things starting to get sanded and boarded and lighted, oh my.
And now, for the story in a more attractive, visually based format that is easy to digest, share via social media and increase organic interest in recycled doors for walls… It looks nicest on the page this way, but click on the first photo to do it in slideshow mode. Way better. And listen to this at the same time.
And we honestly had no idea what we were going to do once that wall came down initially. We were thinking of how we could get a piece of glass for it… But then we remembered those doors in the garage that we had saved for… an occasion such as this! And there you have it!
bfd