We were asked by Chairish.com, a most excellent online style drool centre and shop, to choose some barstools to incorporate into the a female equivalent of a 'Man Cave' on a mood board.  (You can check out their whole bar stool collection here ) We immediately went with the Findahls Mobelfabrik Danish Bar Stools ($895 USD for 4) because duh, look at them. Also, because they actually look comfortable and relatively easy to move around in a Lady Lair for various lady-related activities like dancing like no one's watching (snort ,eyeroll), kung fu and eating cupcakes on the floor because why the hell not, it's YOUR Lady Lair.
---

Stars Wallpaper – White & Black by Andrea Lauren from Spoonflower.com $5USD/ft

Fibs and Secrets Porcelain Canisters starting at $128USD from JonanthanAdler.com
Within the Tides Rosequartz Credenza By Monika Strigel $999 USD from DenyDesigns.com
Set of Three Pendants in Brass and Glass $1,001.13CAD per item from 1stDibs.com
Enseigne ancienne de coiffeur €590 from design-only.com
Findahls Mobelfabrik Danish Bar Stools $895 USD for 4 from chairish.com
Wrong for Hay Hackney Sofa 

$3,700.00 CAD from TheModernShop.ca 

Marimekko Pieni Unikko Cushion $55.00 CAD from EQ3.com
Malakos, Malachite 20″ x 14″ Decorative Throw pillow $41.94 CAD from TonicLiving.com
Art Deco Style Lucite Three-Tiered Bar Cart-Trolly $1,394.87 CAD from 1stDibs.com
Blondie Photograph Print – (BL001ES) Photographer: Edie Steiner Edition: 25 starting at $950 from AnalogueGallery.com
Obviously because this is a 'dream' moodboard, we went a little nuts with a few choice vintage pieces from 1stDibs… And that citrus dream sofa? With the 2 dogs we would never, but in a fantasy Lady Lair, eff yes! Given the point of this post, explaining Debbie Harry's presence in a women's salon is obviously not required (though if it is, you're reading the wrong blerg my friend). We envisage the photo to be above the couch, in the largest size available which is closer to a 33″ x 46″. Because #badass. And that antique French Perfumerie sign? From one of our favourite Paris antique shops. Because who cares about paying for shipping and customs when you have a $3,500 couch? Not us. Not today.
The pillows are a must a) because pillows are the best and we need them for #pillowfights because #ladies and #stereotypes. We also need them for forts. You can never go wrong with a little Marimekko print, and Malachite/natural stone prints? 100% the precious at 1/8th of the price. This whole board can't be ridiculous, we haven't forgotten who we are (frugal, not cheap). Which is ultimately why we decided to go with the $999 USD sideboard instead of the $6,000 Art Deco sideboard. There needed to be a little more colour to directly contrast with the black and white star palette, and again, with the natural stone print… How could you not? Adds a warm offset to the greens  and monochrome so you can pair those barstools with the sideboard OR the barcart. But goddamn. You should have seen the art deco sideboards we DIDN'T include here. But… because you asked here's a few we had to let go… Le sigh.
And this…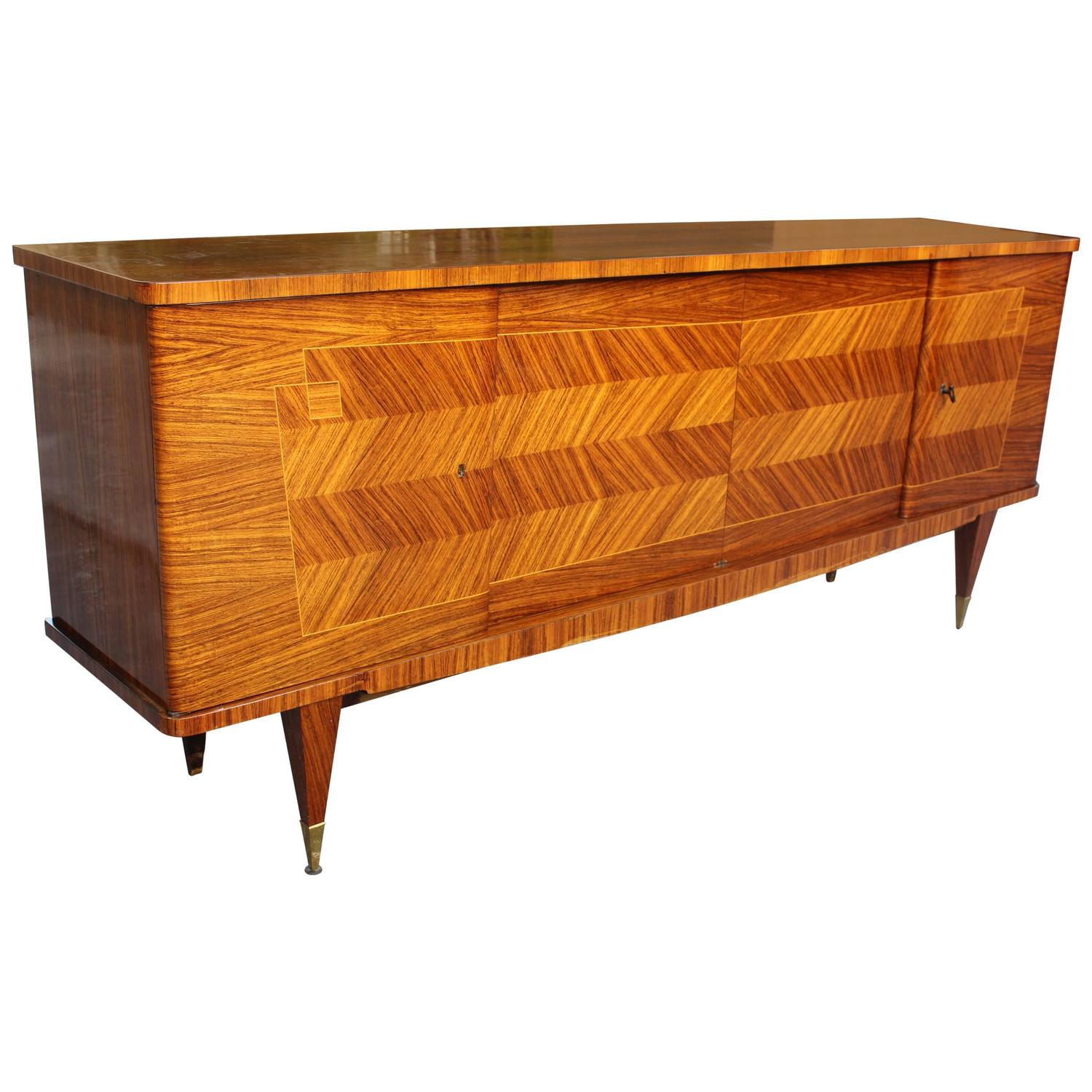 Not that we'd say no if they showed up on our doorstep, of course, but we wanted to have a pieces that could stand with the bar stools and not be too clashy with the different woods. Clashy you say? Like NOW you're avoiding the clashy? I know,  it's not as if we have a problem with that kind of thing normally, but if we are going to put things together that don't match, make sure they aren't kind of similar. Cause then that's forced and annoying, like having to invite the challenging second cousin of a friend over when you have plans with the friend but can't exclude people. And you have to bite your tongue the whole time and pretend their comments about 'too many handouts' and 'bleeding heart liberals' and 'education' aren't super stupid and entirely moronic. Except in a style sense.
And there you have it. #ladylair #extraordinaire by #BFDToronto #letsgoraptors
Thanks Chairish.com!
bfd